Primary & Secondary Math Tuition Centre Reveals The Formula Behind Attaining A For Mathematics In Less Than 6 Months ... By Using The Proven Complete Concept Integration™ Methodology.
We teach your child how to think in our tuition centre. They learn, apply & produce massive results in Primary & Secondary Math.
VIEW THE MATH SCHEDULE
HOW WE HELP OUR STUDENTS SUCCEED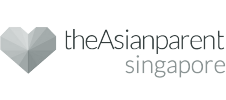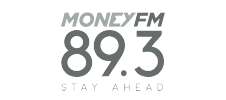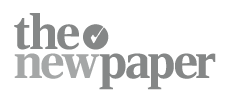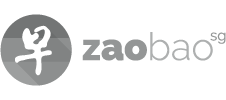 Do You Want Your Child to Do Well in Secondary Math?
Well, of course you do… who would ever not want their child to do well?
The REAL question is – What should your child do to score well in Mathematics?
For many parents, they recognise that their child has transited to another phase of life (i.e. their teenage years) and should develop more independence to manage their academics on their own.
Most students typically only rely on their school's worksheets, because that is all that they have.
If they understand what's going on, it is all well and good.
However, if they struggle to grasp the concepts taught or even apply them accurately, it often translates to poor foundations and a lack of motivation to do well in Mathematics.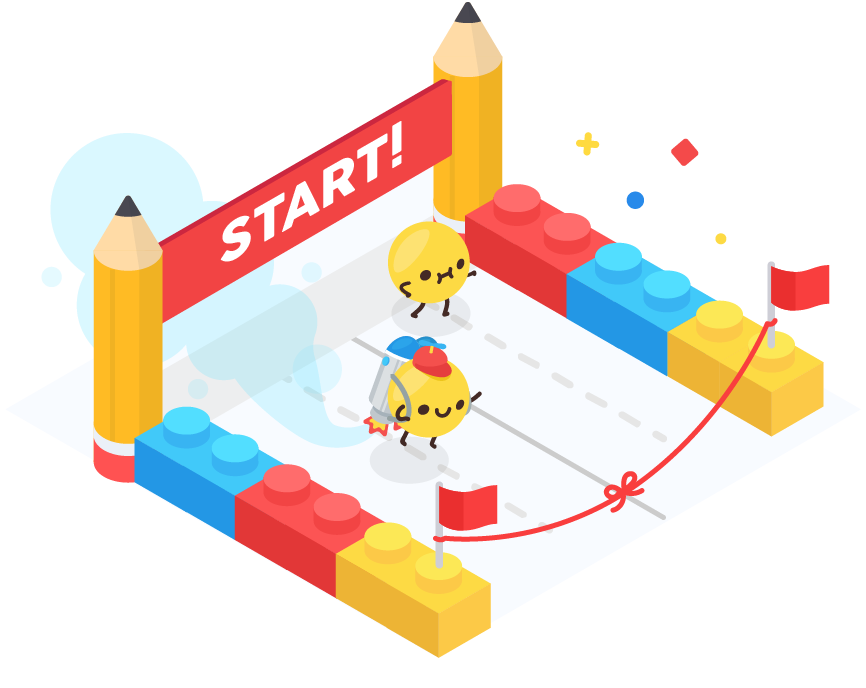 The good news is that we have been able to help our students get fantastic results like no one else can because we have figured out a handful of techniques that actually move the needle.
We achieve this by introducing structure in learning Mathematics, starting from helping our students understand the most basic mathematical concepts and working their way towards tackling challenging questions.
With the strong support and rigor of our Mathematical programme, you and your child no longer have to spend your weekend at the bookstore comparing which assessment book is better.
Our goal is to help your child shorten his/her learning curve in Mathematics, so that time can be better spent on activities that matter.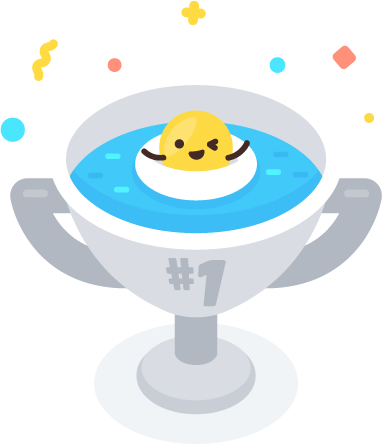 The #1 Preferred Choice Among Parents For Secondary Math Tuition
We help to empower your child with clear thought processes & precise answering techniques that bring massive improvements in his/her Math examination results.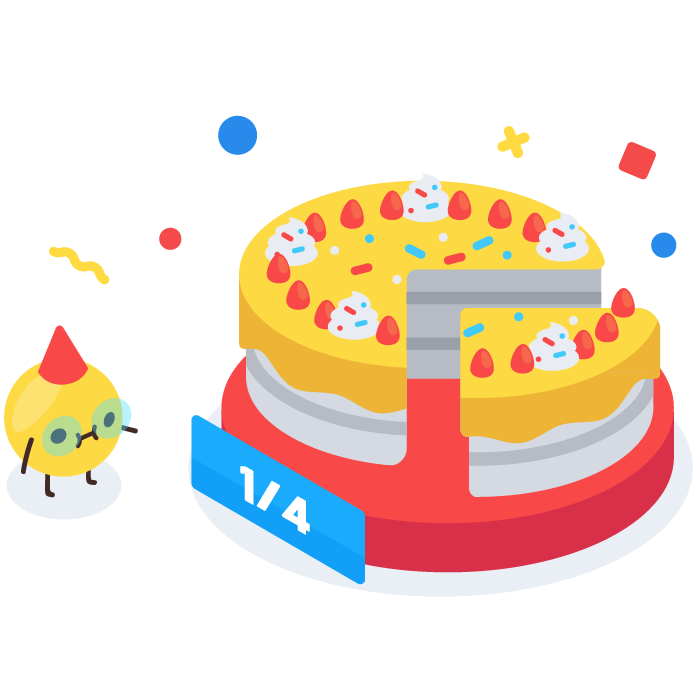 Highly Engaging Learning Experience
Let's face it – teachers make or break the learning experience for your child.
At The Pi Lab, your child will be meticulously coached by Secondary Math specialists who know their stuff and genuinely care for your child.
Think Math in a dry subject? Well, it doesn't have to be.
We help our students understand abstract mathematical concepts by relating them with examples from daily life experiences. This helps them develop a new appreciation for what they are learning.
How cool is that?!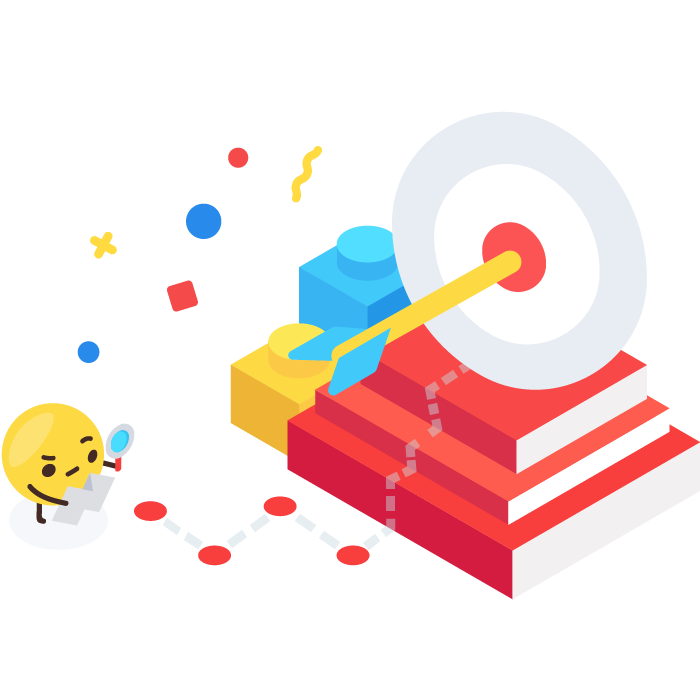 Structured Curriculum For Step-by-Step Learning
Our curriculum is designed to teach students how to solve Mathematical questions in a systematic, step-by-step manner.
We help our students understand a variety of ways a mathematical concept may be tested and how to apply an appropriate method to solve the problem.
We strengthen their understanding and familiarity by exposing them to similar questions, which can help to build their confidence in tackling questions.
This creates a virtuous cycle of improvement, which is integral in helping them achieve a distinction (A1/A2) in Mathematics.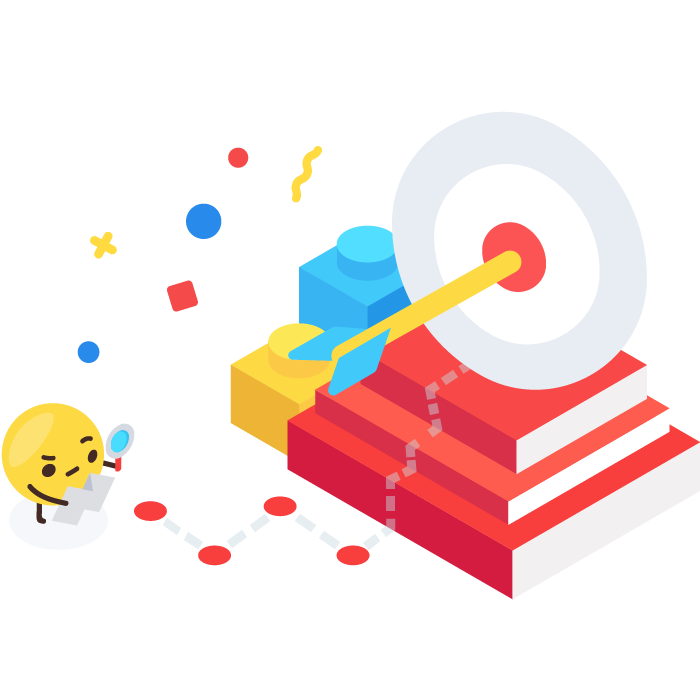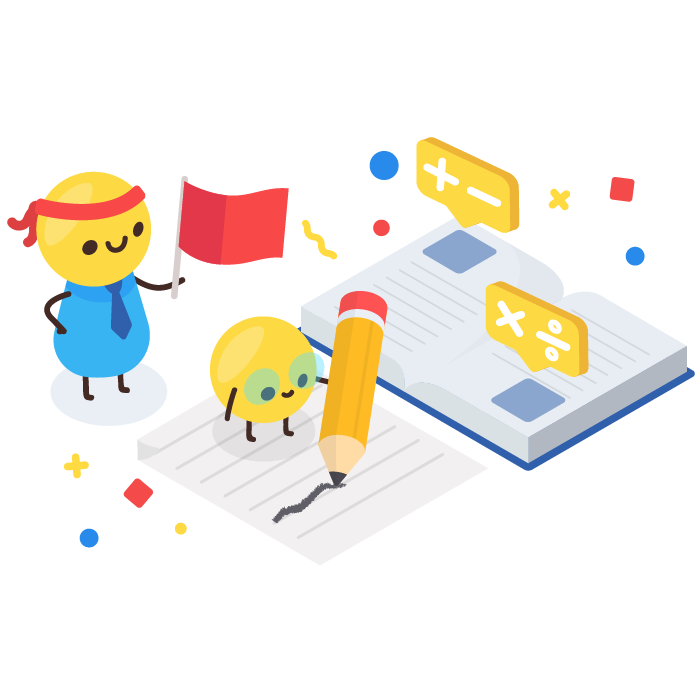 Examination-centric Learning Materials
We have invested a lot of time & resources to craft the best learning materials in the industry.
Besides being visually appealing, our Mathematics notes have been peppered with plenty of worked examples, so your child dives straight into practice with the teacher after learning a new technique/ concept.
Our worksheets also contain questions adapted from past year school examination papers, so that we can make learning as relevant as possible.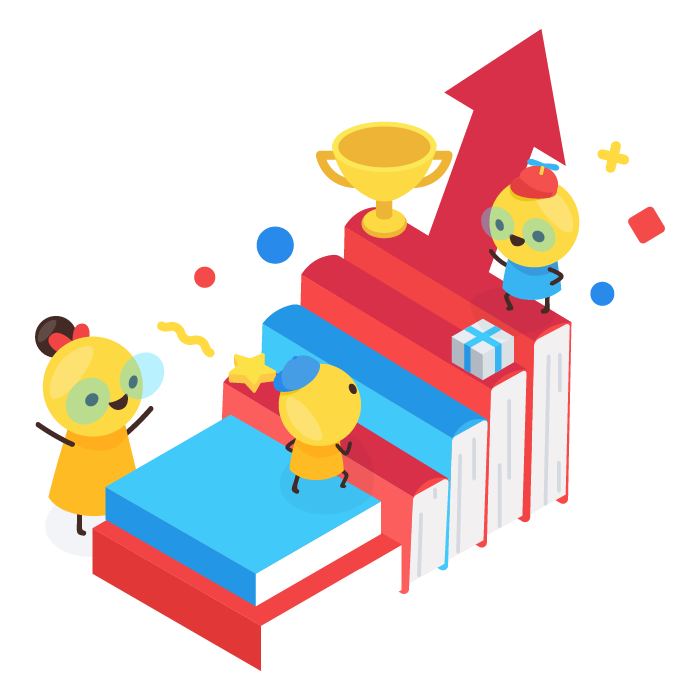 Tracking Learning Progression
Diagnostic assessments will be given to students periodically in our regular classes, so that we can keep a close pulse on their learning abilities.
If your child performs well in these diagnostic assessments, he/she can look forward to receiving rewards from us. This is our promise to every student who puts in the effort to work together with us.
Conversely, if certain conceptual errors are picked up from the diagnostic tests, your child can work on our additional practices to get more exposure to the topic. Our specialists will be happy to offer guidance for questions that he/she has doubts about too!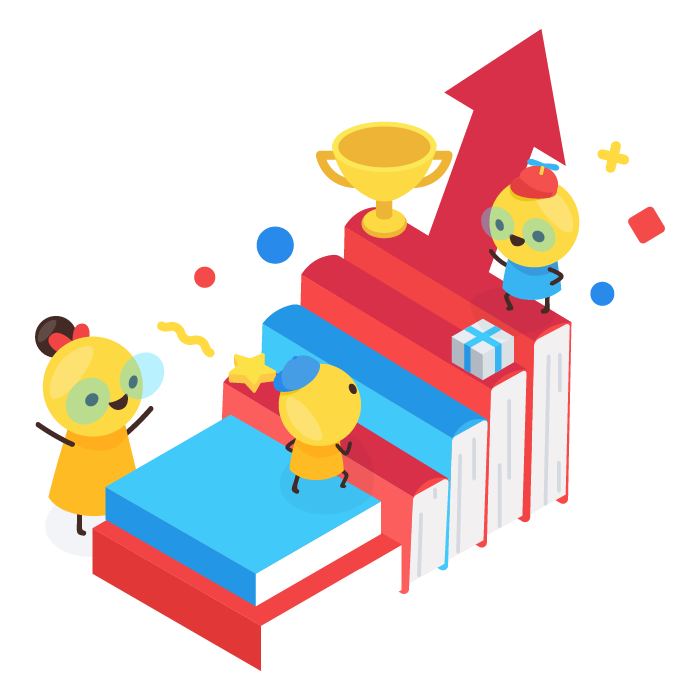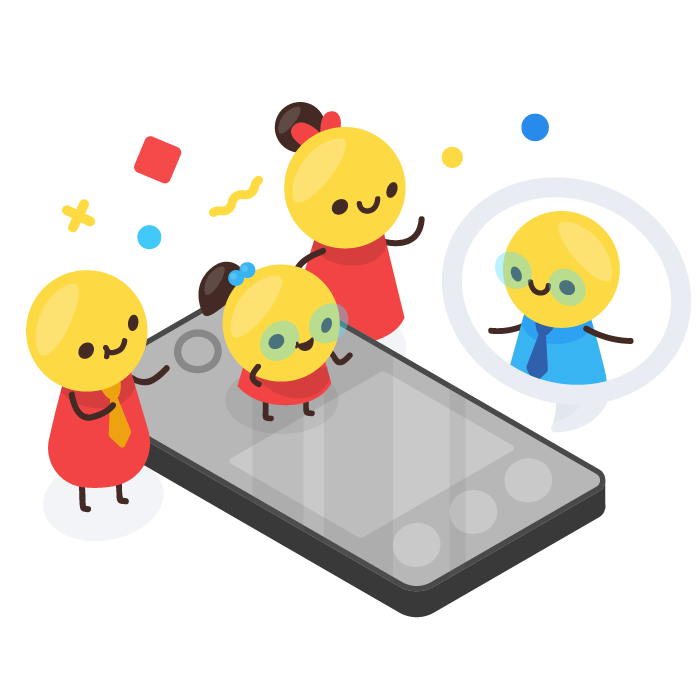 Strong Post-programme Support
Support doesn't end after your child leaves our classroom.
If your child has a burning question, he/she can reach out to his/her teacher via our dedicated academic helpline on WhatsApp.
It's that simple!

Designed By The Same Team Who Built The Pique Lab
Before we take your child on as our student, we want you to read the testimonials below, because these are the results that you can expect.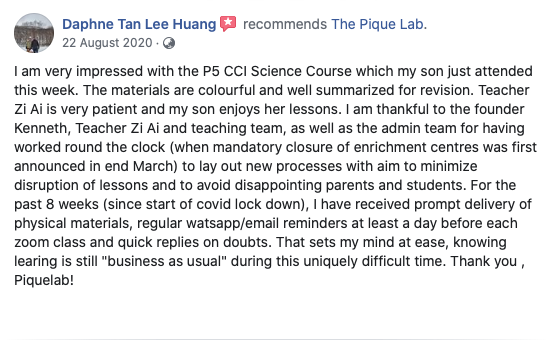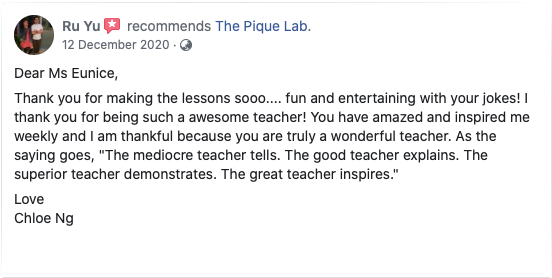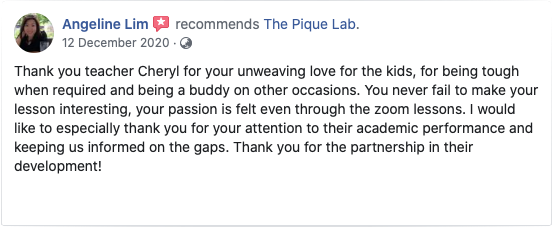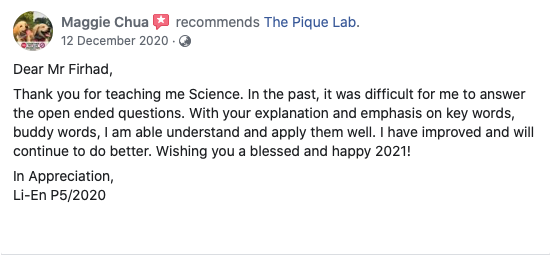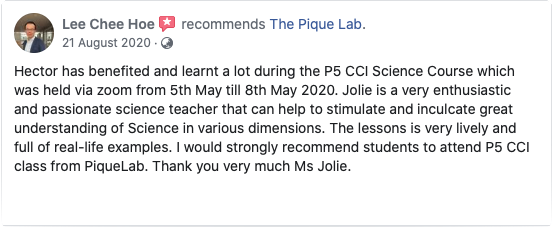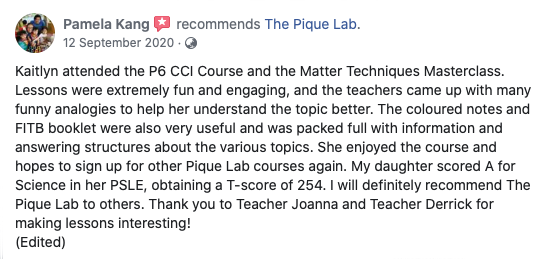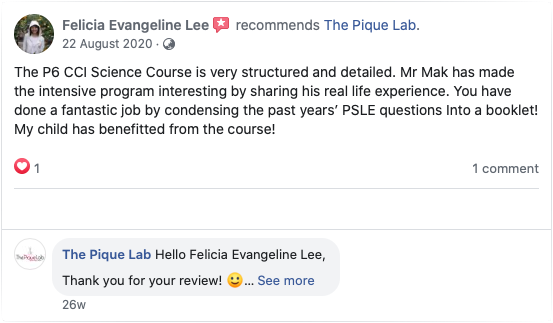 Click on the image to pause the slideshow. ☝🏻